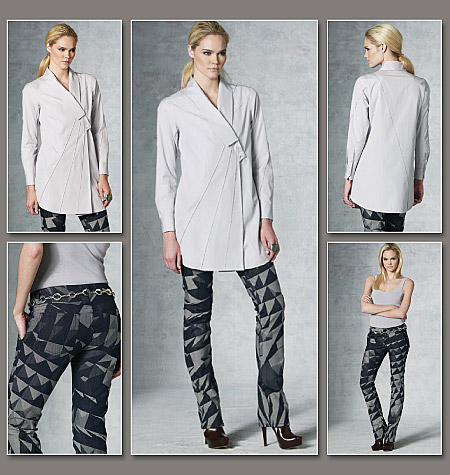 MISSES' TUNIC AND PANTS: Very loose-fitting tunic has tuck details, large collar, full length sleeves with plackets and cuffs. Fitted, below waist pants has front side slant pockets, back patchpockets, fly zipper closing, back yoke, waistband, carriers and topstitch trim.
For my next project I have just cut out Vogue 1204 in a nice white cotton. There are not too many pieces to this, but I am not going to lull myself into a forced sense of security because I am sure that I will have to take the upmost care when stitching the tuck details.
I checked out PR and the only reviews for this pattern are for the jeans not the tunic top, so I am out there on my own with this one.
I like the simplicity of this Issey Miyake design with all the emphasis in the tuck details.
I would like to enter this into the SAM, however once again I feel I may be putting a bit of my own interpretation as to what is a shirt.
Done all I can for tonight, hopefully I will be able to do some more tomorrow.
Catch you later...................